single post
Haley Richardson & Quinn Bachand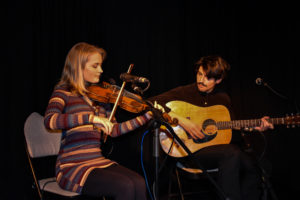 Before the age of 12, both Haley Richardson and Quinn Bachand were each touring nationally and internationally with some of the leading artists in the Celtic music world.  Their immersion in Celtic and American roots music is palpable through their instrumental mastery, and together they bring a passionate, youthful energy to this fiddle tradition, leaving their audience in a state of nostalgic bliss.
Haley Richardson's fiddling lures her audience into an alternate dimension with her powerful yet subtle style that is reminiscent of sounds from your old well-played Bothy Band tape.  Quinn's multi-instrumentation beautifully compliments this as he shape shifts from the guitar styling's of the late Michael O'Domnhaill to the high-energy banjo playing of Charlie Pigott of the original DeDannan.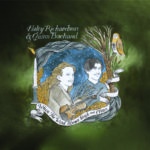 This dynamic young fiddler began making her mark in the Irish music world when she won the All Ireland qualifier in the under 12 age category at only six years old. Since then she has amassed a long list of accomplishments and performed across North America, Ireland and the United Kingdom.  With her highly ornamented Sligo style, Haley is the 2018 Fiddler of Dooney,  2013 All Ireland U12 Champion in both fiddle and fiddle slow airs, and 2017 All Ireland U15 Champion in fiddle slow airs. In addition to multiple All Ireland medals, she is a 9X Mid-Atlantic Fleadh Champion.
Although Quinn Bachand plays a range of styles that include jazz and bluegrass, it is his talents in the world of Celtic music that have drawn the most attention.  A gifted and creative guitar player, Quinn adds a contemporary edge to traditional Celtic music. His unique harmonies, hard-driving strumming, inventive chord voicing and powerful rhythmic effects make even the most well-worn tunes seem new and exciting.
A Berklee School of Music College alum and Presidential scholar, Quinn has toured internationally for many years, performing in an award-winning duo with sister Qristina as well as with many of the world's top Celtic music artists including three-time Juno award-winning Ashley MacIsaac, Cape Breton's Natalie MacMaster and Grammy nominated Kittel & Co.  Quinn has a deep understanding of North American folk fiddling as well as Irish traditional music. He is also the founder and archivist of the BCOTMP (BC Old-Time Music Project) and is working with Canada Council for the Arts to preserve the old-time fiddling of his home province, British Columbia.